Virus Clean & Protect
Tested 99.99% effective against COVID-19 thorough recognised testing practices. Specialised application service for Dura-Seal Microbe Shield with Zoono. Clean and protect your vehicle's interior from viruses and infectious pathogens.
Dura-Seal Microbe Shield with Zoono has been tested as 99.99% effective against COVID-19 following standard surrogate virus tests.
Commercial Grade Protection Agent
Up To 30 Days Protection*
Get A Quote
Time Frame: 1-2+ hrs depending on the needs.
Commercial Grade Anti-Viral Protection
We use a Quaternary Ammonium Compound – these are commonly used antibacterial agents found in products such as toothpaste, contact lens products, cosmetics, soaps. While our quaternary ammonium compound originates from natural sand the process is synthetic.
Our secret lies in the technology behind the quaternary ammonium compound which enables Dura-Seal Microbe Shield with Zoono to stay active and continue killing pathogens for long periods of times.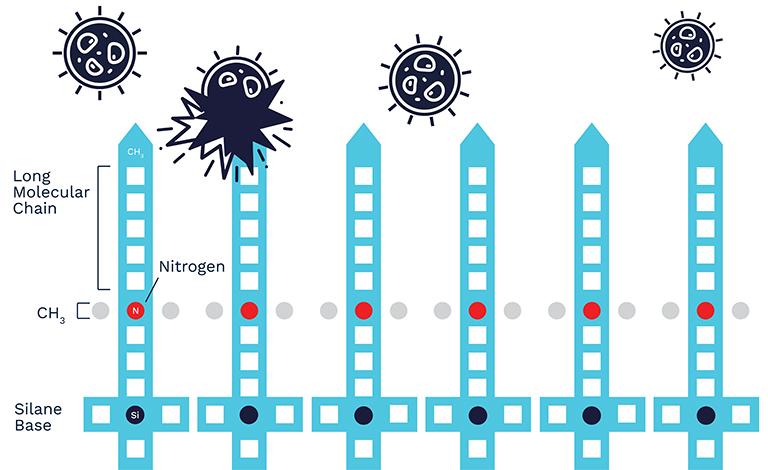 Any environments where germs are present and likely to pose a threat. Dura-Seal Microbe Shield with Zoono is successfully used in buildings, vehicles, shipping, homes and hospitals where there is a risk of infection.
Routine liquid disinfectants only work when the surface is wet, once the disinfectant is wiped off or dried it is no longer capable if killing any further potentially harmful microorganisms that recontaminate that surface, in fact the surface becomes contaminated to the same levels as before disinfection within 1 – 2 hours.
This is the reason why Dura-Seal Microbe Shield with Zoono technology is the next generation. Because it is also water-based and has a low toxicity level so does not require any special precautionary considerations such as the more toxic and corrosive biocides, which is why it can also be used in enclosed spaces.
Processes
Where the vehicle has no known usage cases of persons with infections, or has been out of use for more than 72hrs,  a cleaner PH neutral solution is used to remove dust etc and remove any virus cells. Where the vehicle has had a known infected person use the vehicle we run a ozone purification system prior to cleaning.
Wipe down interior with PH neutral cleaner 'disruption' solution
Dry surfaces in preparation for application of Microbe Shield
Apply Microbe Shield to all touch surfaces within the vehicle
What You Should Know*
In times of high infection recommend re-application every 14 days. Within normal operating conditions we recommend re-application every 30 days.
Vehicle Types
Our virus cleaning service covers:
Small Cars
Medium Cars
Large Cars
Motorhomes
Boats
Frequently Asked
What's surfaces are done? 
We clean and apply to all normal 'touch' surfaces:
Dash
Steering Wheel
Centre Console
Seats (front and back)
Door Handles and Door Cards
Arm Rests
Carpets & Mats – sprayed over
Door Pillars
Seat Belt Touch Points
How Long Does It Take?
1-2 hours for the cleaning and application. Around 30 minutes from end of application to ready for service.
How Long Does It Last?
Under normal conditions 30 days; however, in times of high virus infections 14 days is the recommended re-application period.
Why Protection Is Important
It's widely acknowledged that the environment and surfaces are a significant source of microbiological contamination and is considered as a major vehicle for harmful microorganisms to cause infection (cross-infection). Bacteria, viruses, fungi and yeasts contaminate surfaces and in fact can form bio-films that are extremely resilient to hygiene processes i.e. cleaning and disinfection. Harmful microorganisms can be transferred by cross contamination via touch or the air in the form of aerosols (in water droplets) or generally as single cells or "clumps".
Dura-Seal Microbe Shield Technology
Mechanical Disruption of the virus cell
NOT A Dehydration Or Chemical Poisoning Product
Supported by 100+ independent laboratory tests
Environmentally Friendly
Prevents Superbug Mutations
Proven Effective For Up To 24Hrs on Skin
Proven Effective For Up To 30 Day On Hard Surfaces
Proven Effective For Up To 100 Washes On Textiles