Restoring Black Paint On Cars – From Grey To Black Full Paint Surface Cut & Polish Detailing
Starting with a wipe on wipe off water spot remover, we broke the bond between the calcified water stains and the paint surface. Secondly, a full 3 stage corrective buff and polish restored the depth of colour and shine. Finished with a quality paint stone chip repair process, blending the chips with the rest of the vehicle to give a smoother looking finish.
Gone are the days of sending your car to the paint shop for a quick buff that introduces more problems than it fixes – all neatly hidden in a thick layer of wax. Present technology and skills allow our approved applicators to buff a vehicle to an outstanding level of shine that will remain there (more so if sealed with Dura-Seal Ultra Ceramic Coating). The big problem is that paint on most modern vehicles does not provide for much when buffing. What's more, incorrect buffing dramatically reduces the life of your paint.
Water Spot Removal & Paint Surface Detailing Water Spot & Swirl Removal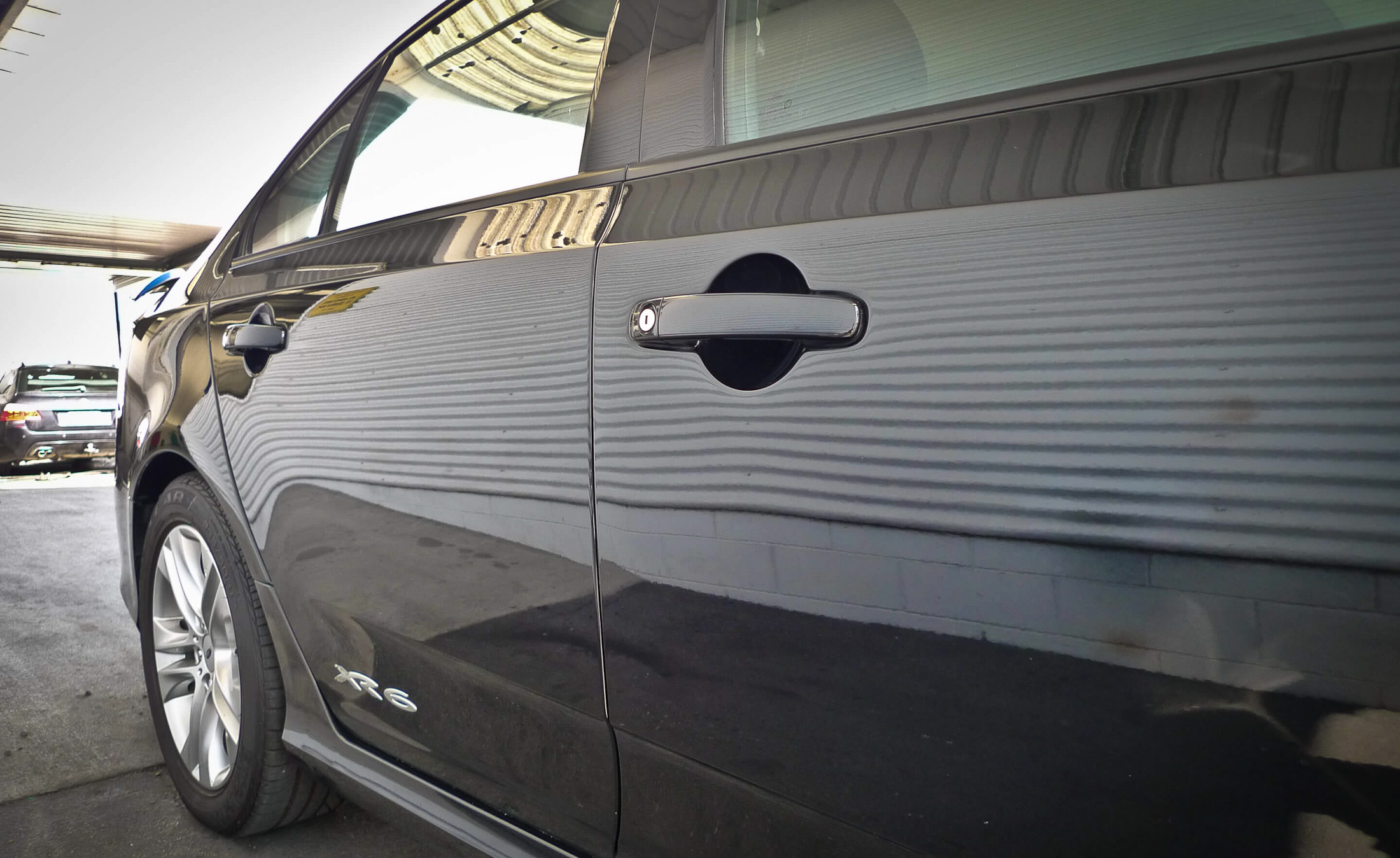 Deep paint surface clean with a wash solution that releases hard mineral deposits from the paint surface. Followed by a full cut and polish paint detailing to remove the grey swirls and restore the black.
Clean the vehicle with an emulsifying cleaner
Apply water sport remover
Full paint surface detailing and scratch removal
Paint stone chip repairs
Apply long lasting wax sealant
Full Commitment
When a black vehicle is incorrectly buffed or has been through many brushed car washes it often takes on a grey look. Lacking any depth of colour or real sense of shine. This was such a case. Very flat, very grey and lacking any depth. What's more, vehicles like that normally have water spotting issues.
Various techniques are used to check and recheck the finish to ensure the defects have been rectified. If you would like the best detailing treatment on your vehicle feel free to contact us.
A quality cut polish, paint detailing can remove these fine lines. Followed up with a ceramic coating to help reduce occurrences can provide for years of shiny reflective paint.
If your favourite car's an appreciating classic admired by many or it's an everyday traveler, you can feel confident in knowing that the our approved applicators have been there, caring for the vehicles we work on as if they were their own. Their processes are designed to help improve and maintain the integrity of the factory finish while protecting and enhancing the look and feel.
Application of Dura-Seal Ultra for easy-cleaning. Wash with a quality product like Optimum ONR and Opti-Clean.  Ensure that you wash the vehicle when its cool to the touch and always fully dry the vehicle off. Drying off the vehicle elminates mineral water-spotitng.